ABOUT US
Designing trips that flow smoothly through Indian outdoors is an art. After 15 years of specialization and experience in travel through this vast and culturally diverse country, we understand how weave your expectations and dreams into the actual intricacies of permits, bookings and all logistics, be it outdoor or a leisure trip.
When you get touch with us we assist you in choosing the trip that matches your schedule, budget and interests. Then we set the wheels in motion to land you in the most remote as well as the most highly sought after destinations in India.
Click Here to View Activities conducted at our Campsites
Members of our staff come from diverse backgrounds, but share one ultimate aim to provide our clients with "The Trip of a Lifetime". We all belong to Himalayan state of Uttarakhand and settled in and around its capital city "Dehradun" which acts as an attractive compromise between living in an urban environment and enjoying easy access to some of Himalayas best in Skiing, Angling, River Running, Trekking, Mountaineering, Mountain Biking and Jungle Safari's. Together, we continually build on our knowledge of all things through an on going training program which includes study, reading, motion picture, food tasting, cooking, local culture and periodic travel throughout India.
TEAM ALPINESTAR HOLIDAYS
Manjul Rawat - Founder & Director
An adventure travel pioneer for nearly 15 years, Manjul's entrepreneurial spirit and experience are the heart and soul of Alpinestar Holidays. He maintains a keen interest in the study of Indian culture and mountaineering lore; and his determination and unwavering devotion to the highest standards has become the keystone of the organization.

Manjul fell in love with the outdoors while on a trekking trip to the famous " Valley of Flowers " in Himalayas on a college outing in the year 1992. Since then, he has traveled extensively throughout India. A native of hill district of Tehri Garhwal, he makes friends easily and surrounds himself with extraordinary people. He has amassed an extensive network of contacts, which enable Alpinestar Holidays to excel both as a business enterprise and as a purveyor of unique and compelling adventures.

While graduation at the University of Gahrwal in the 1990s, Manjul came in touch with "National Adventure Foundation" a apex body for the promotion of adventure sports in India. During this period Manjul became enamored with the vast himalayan outdoors and also trained nearly 10000 students . This passion for Himalayas and Indian outdoors has formed the genesis of his career in adventure travel.
ATUL RAWAT (Sales)
Being bitten by the adventure bug years ago, his enthusiasm for any outdoor trip is infectious! While successfully heading two mutually exclusive departments – Corporate Management Programmes & Children Camps, he gathers time for his outdoor pursuits. Possessing a rich experience of numerous trekking & rock climbing expeditions apart from all the technical & soft skills required in this field, he is a feather in the cap for Alpinestar Holidays A graduate in commerce from HNB Garhwal University, Atul has also completed a MBA from Symbiosis. Atul`s association with Alpinestar Holidays has been since its inception and he is a familiar name to anyone who has booked a trip with Alpinestar Holidays with an in-depth knowledge of all the tour programmes, Atul efficiently plans your holiday and ensures that it runs smoothly in any part of the country as he meticulously looks into minutest details for that smooth running trip.
Budhi Singh Negi - River Guide & Trekking In Charge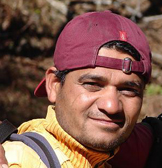 Yogender Bisht - Trekking Guide & Store in Charge
" A holiday with ALPINESTAR HOLIDAYS can prove a delightful change. Pack your rucksacks,take your cameras, and simply follow your instinct."